It's almost Christmas!!  I can share this gift here now, as my hubby usually doesn't read my blog until a few days after I post a new blog post.  This Adventure Awaits Collage is his Christmas gift and I'm thinking he's gonna be pretty happy with it.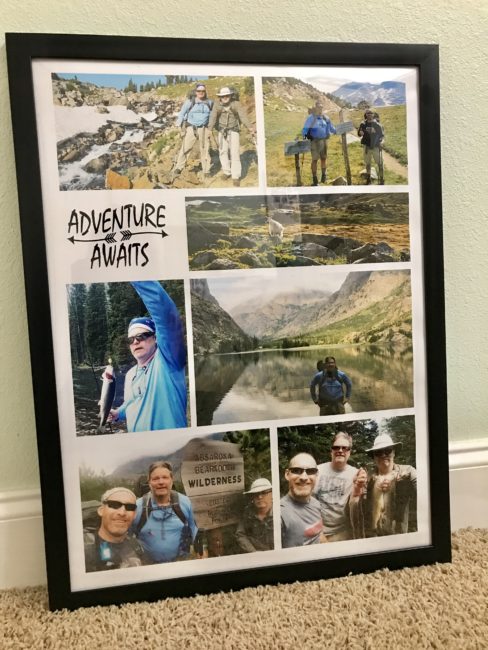 It features photos of him and his buddies from graduate school on their backpacking trip on the The Beaten Path Trail in Montana. They took some incredible photos of the scenery, but I choose to have this collage focus on photos of the three of them.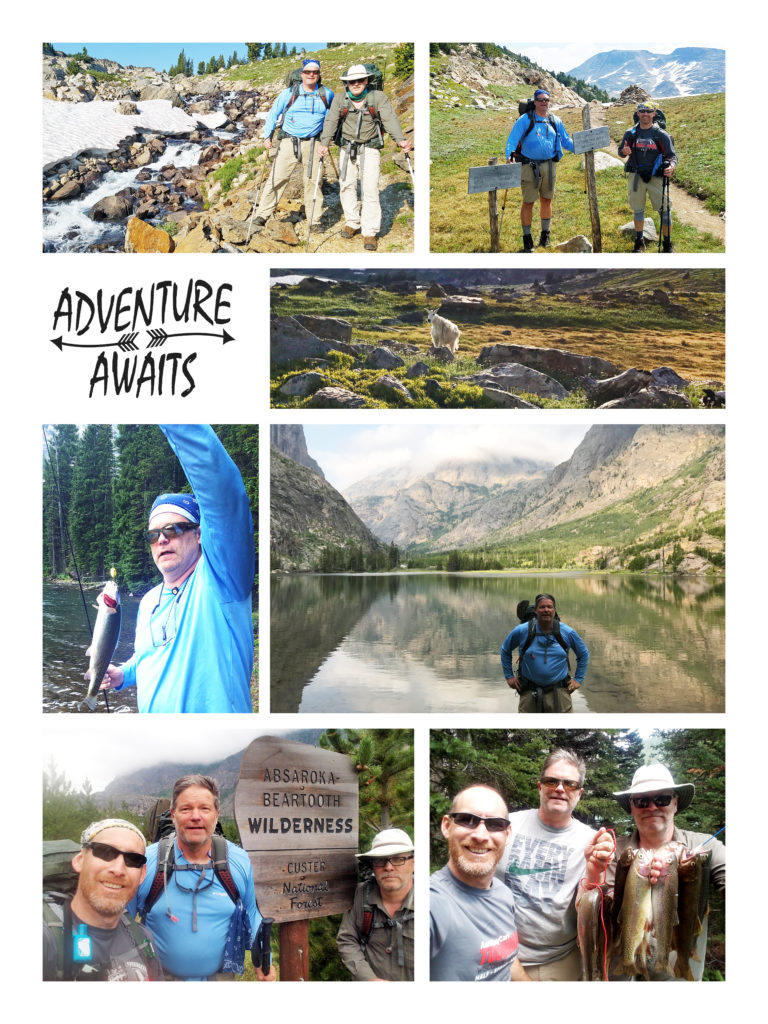 So here's a quick recap on how I did this collage:
First I gathered the photos, all digital of course. I chose about 12 photos, knowing I wouldn't use all of them.; I ended up using 7. And also went for photos that had people in them, and not just scenery.  I did a few edits in Photoshop – brightening and some contrast edits.  And then converted/saved the photos from 72dpi to 300 dpi. That's a critical step when printing photos.
So once the photos were ready to go, I needed a Photoshop collage template. Rather than try and create my own 18×24 collage in Photoshop, I purchased this template from an Etsy shop, CG Essentials, along with this wordart from SAMMO, another an Etsy shop. In the past, I would have tried to create/design the template and wordart, but with the instant downloads on Etsy for these type of products, its much easier to purchase.  And, by doing so, I am also supporting another artist-maker, which to me is very important.
Next is uploading the collage to a printer. I always use Millers Imaging for printing; I have a professional account with them, but their consumer division is MPIX and I HIGHLY recommend using MPIX vs. Shutterfly.  MPIX has excellent customer service, and that's not always the case with Shutterfly AND the quality is much better with MPIX.   Yes, MPIX's selection of collages, photobooks and photo-type decor/gifts are not extensive like Shutterfly, but I find that to be okay, as too much selection can be overwhelming.  (Side Note: If you've never printed on foam board before, it's a great solution vs paper or canvas. Very affordable. MPIX has a product called the Standout, which I often use).
As for the frame, I purchased a poster size frame from Target (18×24) to put it in and it fit perfectly.  Whew! I always hold my breath when using a frame, as sometimes the sizing is off.  Or the frame backing is a bear to deal with. Overall, frames stress me out, so I tend to print collages on canvas or use a foam board product, as it totally eliminates  the hassle that sometimes comes with framing.
This is the first time I've created a poster size collage, so I was little concerned about the size of it, but it turned out great.  If the hubby wants, we can always have it framed professionally, rather then use a cheap frame from Target, but at this point, I just wanted to get it done and wrapped!!