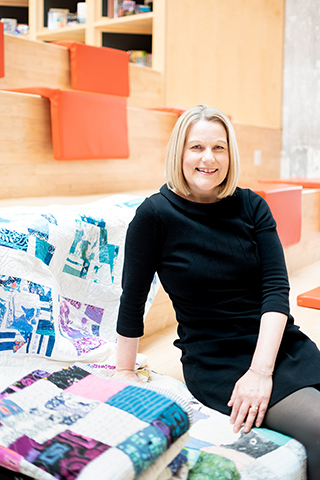 Welcome to RosieJanes & thanks for checking out my blog. Most of what I post about is quilting related……..I started quilting a little over two years ago.  Quilting is my creative release & I initially started quilting as a way to get "myself off of screens." Like many quilters, I love to play with color through fabric and tend to lean towards modern quilting vs. traditional.  During the last year and a half, I've developed a technique (process? still trying to figure out what is is???) for creating fabric using photos. You'll find that much of my blog (and IG feed @mattyjhb) is devoted to that.
Home is the Midtown area of Memphis, Tennessee.   At times I've been a stay-at-home Mom, but currently am working; I'm a healthcare attorney and work for a hospital.  Since my career as a lawyer allows ZERO creativity, the creative side of me often goes into overload through quilting. And this often means I add in fabric design/fabric customization which starts with a photo but ends of with a design.
I'm the mother of two wonderful daughters, Emily and Chloe and a wife of 30 years to my dear husband Jim (aka the "Big Guy" and if you catch a photo of him here on this blog or my social media posts you'll see why that name fits!).
I hope you'll be inspired by this blog, and the ideas/projects and quilts I create. Check out my IG feed too (@mattyjhb) and thanks for stopping by.
Martha