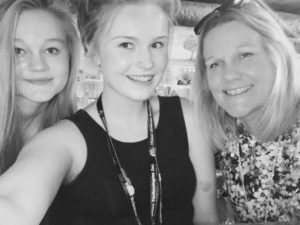 Welcome to RosieJanes.
A little bit about me – I'm the mother of two wonderful daughters, Emily and Chloe (yep that's them, with me on the far right) and a wife of 28 years to my dear husband Jim (aka the "Big Guy" and if you catch a photo of him here on this blog or my social media posts you'll see why that name fits!).
Home is the Midtown area of Memphis, Tennessee.   At times I've been a stay-at-home Mom, but currently am working; I'm a healthcare attorney and work for a hospital.  Since my career as a lawyer doesn't allow me to be creative, the creative side of me goes on overload and what you'll find on this blog are my creative endeavors, which usually involve photos, quilting or a combination of the two.
Here and now I may blog about life's happenings, but my main reason for doing this blog is to share my ideas on doing something with all the photos we have, rather than letting them pile up on our smart phones, computers, iPad, shoeboxes, drawers etc!  I hope you'll be inspired and thanks for stopping by.
Matty